Preparing Our Home featured at the United Nations Multi-Stakeholder Forum on Science, Technology and Innovation
The sixth annual Multi-Stakeholder Forum on Science, Technology and Innovation for the Sustainable Development Goals (STI Forum) was held from 4 to 5 May 2021. The theme for the STI Forum 2021 is: "Science, technology and innovation for a sustainable and resilient COVID-19 recovery, and effective pathways of inclusive action towards the Sustainable Development Goals".
The Preparing Our Home program was invited to present at the specific side event on bridging Indigenous Knowledge and science.
Event Background:
"After more than twenty years of debate, the Declaration on the Rights of Indigenous Peoples was approved by the UN General Assembly on September 13, 2007. The Declaration essentially prohibits discrimination against Indigenous Peoples and promotes their full and effective participation in all matters that concern them, as well as their right to follow their own vision of economic and social development. Nevertheless, there is no effective participation of Indigenous peoples in STI policies and decision-making. To-this-date, Indigenous Peoples are treated only as "observers" and not contributors / co-creators / participants. We have an opportunity to change it through this STI Forum with their inclusion as stakeholders".
Event goals:
"The outcome from the side event is aimed to formulate potential framework(s) for integrating Indigenous knowledge/experience with Science, Technology, and Innovation. It will attempt to devise a roadmap for its implementation with measurable milestones for 2022-2025 period. This workshop attempts to define technical, policy, and financial issues, and to frame a public/private partnership implementation plan for the small-satellites constellation contributing to the post-2015 framework for disaster risk reduction".
Watch event video:
Download the Preparing Our Home presentation here.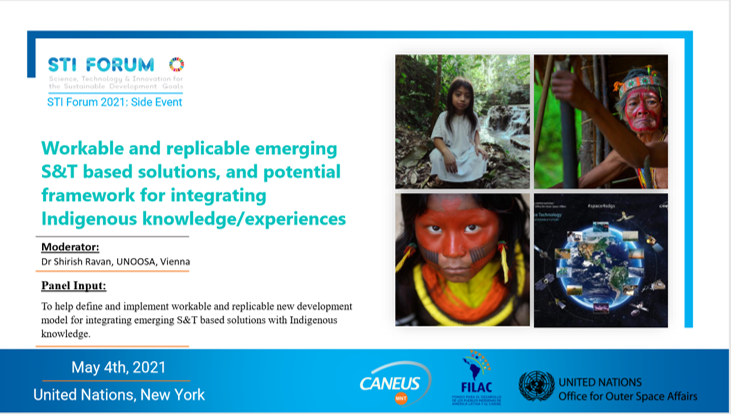 3_Indigenous_Scientific_Solutions_UN Science and Technology_Preparing Our Home