The Preparing Our Home workshop led by Darlene Yellow-Old Woman Munro and Astokomii Smith in Siksika Nation was featured in Aitsiniki newspaper on page 9: http://siksikanation.com/wp/wp-content/uploads/2019/05/April-2019-2-Aitsiniki-complete1.pdf
The overarching goal of the Preparing Our Home workshop was to build the capacity of Siksika Nation Youth for the mobilization of Preparing Our Home across phases of Emergency Management such as Preparedness, Response and Recovery.  The program is in line with Siksika Nation's Mission Statement "Of Nurturing the Growth, Independence, Well-being of our Siksika Culture and Way of Life". 
The workshop engaged youth with experienced instructors and Elders to enhance culturally informed community preparedness through actionable outcomes.  The Elders have traditional knowledge and experience to teach and share with the youth.
Outcomes/Objectives
The youth gained knowledge on how to prepare their home in the event of a natural disaster.
The youth gained knowledge and awareness of risks and hazards within their school area, home and surrounding community and will have the knowledge to share with other youth.
The youth gained knowledge regarding natural disasters that have occurred within Siksika from the Elders.
Cultural teachings from the Elders regarding the importance of making non-perishable traditional foods to ensure they have a food supply in the event of a natural disaster.
The youth gained knowledge on how to make smoked meat.
The youth will be the next generation of Indigenous "Community Resilience Leaders."
Preparing Our Home: Siksika Way
 Ispommitta – The traditional way to help out, assist our family, friends and neighbors is the traditional Siksika Way of Life.
Sopoksistotsi- To have knowledge about an activity through one's experience.
iiyika'kimaa – to try hard to learn, is a word of encouragement used to tell each one to do the best we can at each task.
Ittasinno'p – Historically referred to as a place where food rations were given out to community members.
 The Preparing Our Home workshop is a true demonstration of "Truth and Reconciliation" as it provides an opportunity to share community stories and experiences and look collectively for solutions to address challenges that we face today and into the future by reclaiming our strength from our ancestors" – Darlene Yellow Old Woman-Munro, Workshop organizer.
See the workshop brochure here: POH Siksika nation workshop lessons
Or click on image for the workshop PDF: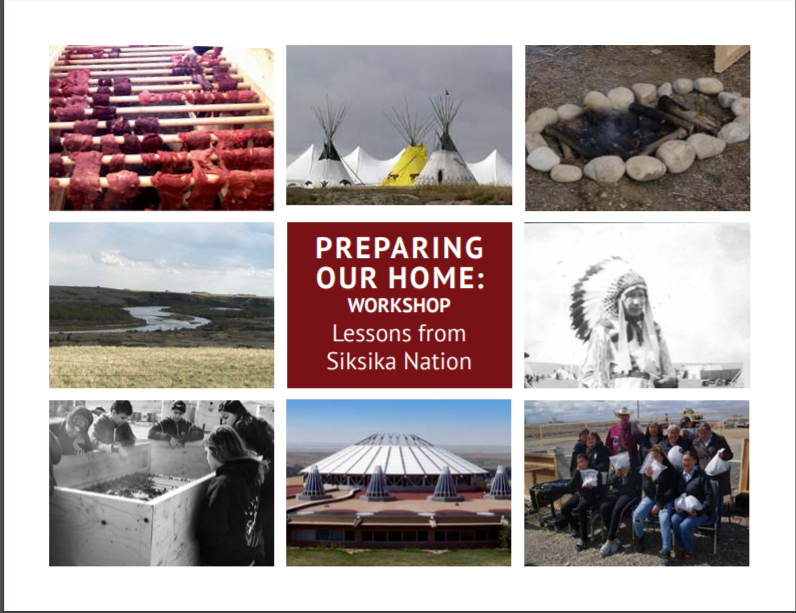 Meet Darlene Munro, Siksika Elder and the first female Chief in Treaty 7 shares stories and lessons learned from the 2013 flood disaster in Siksika Nation. Darlene, who herself was evacuated, started as a night shift volunteer at the community complex and went on to create the Dancing Deer Disaster Recovery Centre to address long-term recovery needs of the evacuees. As a program, we are very fortunate be able to lean on Darlene's wisdom as part of our Advisory Circle:
---
---
Meet Astokomii Smith, a Siksika youth leader who is a part of the ESS committee as the Indigenous Liaison for the Town of Strathmore, AB. "Culture makes me feel safe "

---
---